Featured Event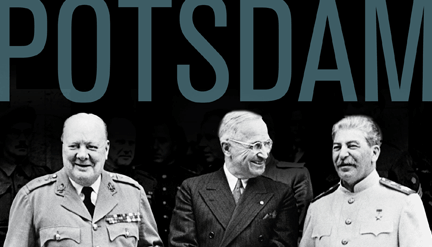 Signature Event
Harry S. Truman Book Award – 2016 Lecture
FEATURING MICHAEL NEIBERG
AWARD-WINNING HISTORIAN AND AUTHOR
6:00 p.m. Wine Reception; 6:30 p.m. Program
Plaza Branch, Kansas City Public Library

After Germany's defeat in WWII, Europe lay in tatters. Millions of refugees were dispersed across the continent. Food and fuel were scarce. Britain was bankrupt, and Germany had been reduced to rubble. In July of 1945, Harry Truman, Winston Churchill, and Joseph Stalin gathered in a quiet suburb of Berlin to negotiate a lasting peace: a peace that would finally put an end to the conflagration that had started in 1914, a peace under which Europe could be rebuilt.
In a discussion of his award-winning book, Potsdam: The End of World War II and the Remaking of Europe, award-winning historian Michael Neiberg brings the turbulent conference to life, vividly capturing the delegates' personalities: Truman, trying to escape from the shadow of Franklin Roosevelt, who had died only months before; Churchill, bombastic and seemingly out of touch; Stalin, cunning and meticulous.
Michael Neiberg is a professor of history and the Chair of War Studies at the U.S. Army War College, and the author of several award-winning books. Prior to his book talk, he will be presented with the Truman Library Institute's Harry S. Truman Book Award. This Signature Event of the Truman Library Institute is co-presented by the Kansas City Public Library and funded, in part, by grants from the Ewing Marion Kauffman Foundation.
Admission is free. A 6 p.m. wine reception precedes the event. Seating is on a first-come basis.
Upcoming Events
Book Event
1948: Harry Truman's Improbable Victory and the Year that Transformed America
6:30 p.m., Harry S. Truman Library and Museum
History recalls the iconic headline of the Chicago Tribune proclaiming "DEWEY DEFEATS TRUMAN." But far, far more exists to 1948's election that a single inglorious headline and a
stunning upset victory. Award-winning author David Pietrusza goes beyond the headlines to reveal backstage events and to place in context a down-to-the-wire donnybrook fought against
the background of an erupting Cold War, the Berlin Airlift, and the birth of Israel, a post-war America facing exploding storms over civil rights, and domestic communism.
This event is included with regular Museum admission; members free.
More Info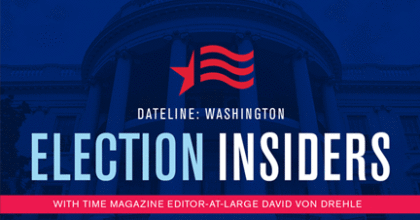 Truman Forum / Dateline: Washington
2016 Election Insiders
FEATURING MIKE ALLEN (Politico)
With TIME Editor-at-Large David Von Drehle

Less than 100 days before Americans go to the polls, the Truman Library Institute and Kansas City Public Library examine one of the most remarkable election years in the nation's history in the latest installment of Dateline: Washington. TIME Magazine Editor at Large David Von Drehle holds a public conversation with former Politico writer Mike Allen, spotlighting the candidates, their campaigns, and the hot-button issues in a look-ahead to November 8.
Allen, one of the most powerful and influential journalists in Washington, was Politico's chief White House correspondent until leaving in July for a new media venture. He wrote previously for Time and The Washington Post.
A 6 p.m. reception precedes this event, which was originally scheduled for January 25, 2016. Admission is free.
Dateline: Washington is made possible by grants from the Ewing Marion Kauffman Foundation Legacy Fund. "Election Insiders" programs are offered in conjunction with the Truman Library's forthcoming exhibition, A More Perfect Union, and related programs focused on democracy, campaigns, and presidential politics.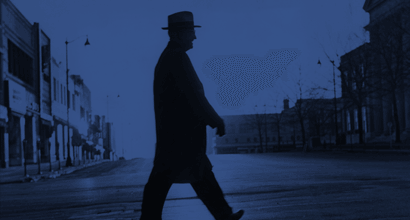 Museum Program / Talkin' Truman
The Millionaire on Delaware
11 a.m., Harry S. Truman Library and Museum
After many years of struggle and hard work, Harry and Bess Truman attained financial security and modest wealth. Join archives specialist Jim Armistead as he looks at financial records that the Truman Library has opened in recent years, and corrects the widespread impression that the couple lived on the brink of poverty after Mr. Truman left the White House. Mr. Armistead will explore Truman's various savings and investments (including an improbable professional football connection), the sale of his Memoirs and the Truman family farm, and the enactment of the first pension for former Presidents in 1958.
Talkin' Truman programs are offered every First Friday at 11 a.m., May through September, and are included with Museum admission (members free).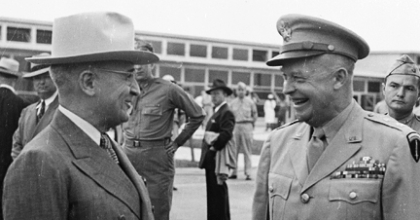 Saturday, September 3, 2016
Museum Program / Talkin' Truman
Eisenhower and Truman
11 a.m., Harry S. Truman Library and Museum
Dwight D. Eisenhower and Harry S. Truman grew up within 150 miles of one another in eastern Kansas and western Missouri. They took quite different paths in life, but they eventually served successively as U.S. presidents in the years following World War II. Join Tim Rives, deputy director at the Dwight D. Eisenhower Library & Museum, and Sam Rushay, supervisory archivist at the Truman Library, as they discuss the lives, times, accomplishments, and legacies of these two remarkable presidents of America's heartland.
Talkin' Truman programs are offered every First Friday at 11 a.m., May through September, and are included with Museum admission (members free).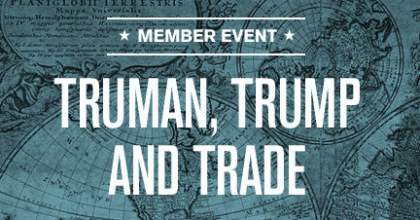 Thursday, September 29, 2016
MEMBER EVENT
Truman, Trump and Trade
6 p.m. Wine Reception
6:30 p.m. Program
MEMBERS: Watch for your VIP invitation to an exclusive after-hours event at the Harry S. Truman Library and Museum. Enjoy a wine reception, private museum access, and a members-only program featuring visiting scholar Tom Zeiler.
Five weeks before the presidential election, Zeiler asks, Are we headed for trade war? Issues from the past – protectionism, isolationism, free markets – have resurfaced in the 2016 campaign. Donald Trump rejects free trade and backs tariffs to guard American industry from imports, and Hillary Clinton has expressed skepticism about trade deals. Don't forget Bernie Sanders, who largely sided with Trump. What would Harry Truman say? While the NAFTA debate of the 1990s witnessed that kind of talk, we really haven't heard such challenges to the free-trade system since its creation, under Truman. He, too, dealt with forces of protectionism, and the rejection of what would have been an early version of today's trade organization, the WTO. Zeiler will explore trade across eras and presidential candidates, with a focus on the consequences for America's foreign policy and role in the world. Zeiler is a professor of diplomatic history at the University of Colorado-Boulder and is the recipient of the Truman Library Institute's prestigious 2016 Scholar's Award.
This private event is offered exclusively to members of the Truman Library Institute. Explore all the benefits of membership here.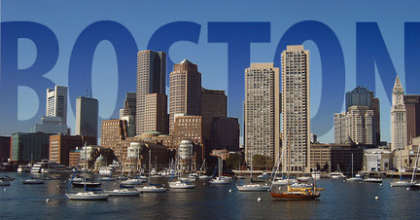 Tuesday, October 11, 2016
Travel Opportunity
Travel with Truman
October 11-15, 2016
Travel with friends of the Truman Library to Boston, MA, birthplace of the American Revolution. Depart from Kansas City International Airport, then travel by motorcoach to featured sites in and around Boston, including the Freedom Trail, John F. Kennedy Presidential Library and Museum, Adams National Historic Park, as well as attractions in Lexington, Concord and Salem.
For complete details, please contact Donna Denslow at 816-268-8239 or donna.denslow@nara.gov.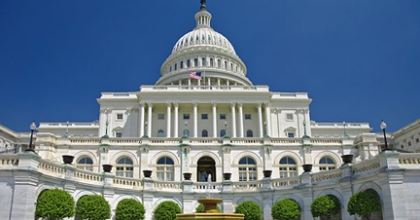 V.I.P. Travel Opportunity
Truman Travelers
October 23-27, 2016
Buck Stops Here Society members are invited to travel with friends of the Truman Library this fall to the nation's capital. Enjoy exquisite dining and unforgettable V.I.P. access to The White House, Library of Congress, Smithsonian Institution, National Archives and more.
Truman Traveler excursions are offered as an exclusive benefit of The Buck Stops Here Society, the Truman Library Institute's premier membership program. Annual memberships start at $1,000. To learn more, please contact Kim Rausch at kim.rausch@nara.gov or 816-268-8237.
Ongoing Programs & Exhibits
Feature Film: Harry S. Truman: 1884-1972

Narrated by David McCullough, this 45-minute film by Academy Award winner Charles Guggenheim examines Truman's life, from his humble birth in Lamar, Missouri, to the courtship of his wife, Bess Wallace, his service in World War I, his entry into local politics under "Boss" Tom Pendergast, his election to the U.S. Senate, and his rise to the Presidency.

Daily Show Times: Hourly from 9:30 a.m. to 3:30 p.m.

White Glove Wednesdays

Harry S. Truman Library and Museum | Museum Lobby
Get up close and personal with rarely viewed artifacts from the Truman Collection every Wednesday at 11 a.m., May through September.


Museums Exhibitions

Now on Special Exhibit at the Truman Library:
The Art of Democracy - Remnant Trust Documents
A More Perfect Union - How Critical Presidential Elections Shaped the Constitution

Learn More

The White House Decision Center

Set in a recreated West Wing, The WHDC offers stellar corporate team building events and hands-on history sessions for student groups.

Learn More